The Gungnir Allrounder – 20kg Olympic barbell
SKU:

61826
£599.00
Description
The Gungnir Allrounder – 20kg Olympic barbell
Introducing the Gungnir 20KG Allrounder Olympic barbell. The only Olympic bar with built-in collars. The SlideLock™ technology makes for a safer, tidier and more user-friendly weight lifting experience. Tested for performance, The Allrounder is a highly durable and solid bar suitable for all uses.
The SlideLock and bar have been drop tested extensively in a drop-testing rig that simulates the varieties of 15.000 real life drops at heights of 1.6 m loaded with 320 kg of plates, as well as heights of 2.2 m with 90 kg. Not to mention the hydraulic press test that proved the Slidelock can endure a vertical pressure of 15.000kg, while staying perfectly intact.
Still don't trust it? The bar comes with a lifetime warranty. In the highly unlikely event that the SlideLock breaks, you get a new one free of charge.
Why choose the Allrounder?
Will it withstand heavy weights?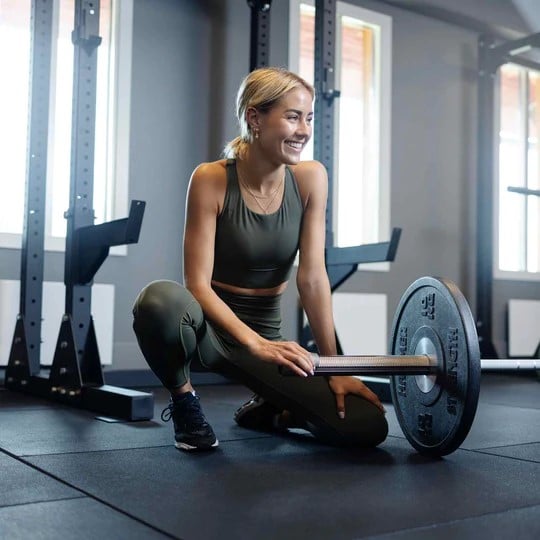 Ease of use
Securing your plates has never been easier. The built-in SlideLocks provide the most efficient and user-friendly locking mechanism on the market.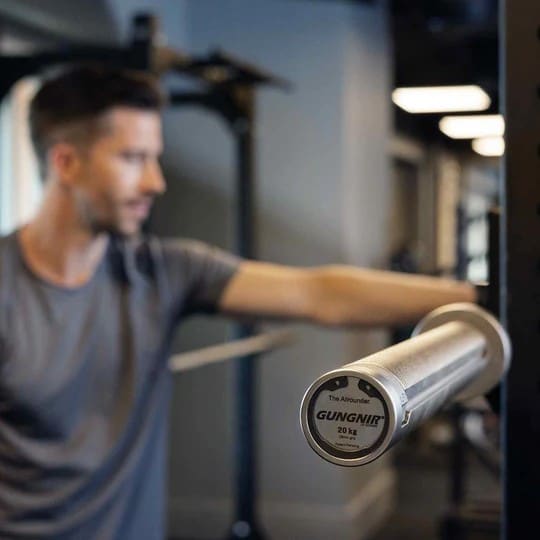 Tidiness
Keep your gym tidier without clips and collars lying around. With built-in collars, you always know where to find them.
Safety
No more unreliable collars. Solid, patented design built to stay in place no matter what. The SlideLock's easy access allows you to secure your plates more frequently. Keeping you and your surroundings safe.
Specifications:
| | |
| --- | --- |
| Weight | 20kg |
| SlideLocks | Titanium |
| Shaft diameter | 28mm |
| Length | 220cm |
| Loadable Sleeve Length | 41cm |
| Knurl | Multi |
| Tensile Strength | 216KPSI |
| Sleeve Coating | Electroless nickel deposit |
| Max Load | 680kg |
| Warranty | Lifetime warranty* |
* Gungnir will warranty this product from defects in material, functionality and workmanship for the lifetime of the product.
The benefits to going collarless
Durable and reliable
The Slidelocks will not get lost, broken or stolen like regular collars and clips. Gym owners purchase collars for every barbell they own up to once a year during the lifetime of a barbell , which is around 7-10 years.
Increased safety
SlideLocks make for a safer gym experience, thanks to their great accessibility. Users
choose to utilize the SlideLock more frequently than regular collars. Keeping the user and their surroundings safe.
User-friendly
Provides you with the most efficient and user-friendly locking mechanism on the market. Lift, Slide, Lock.
Seriously efficient workouts
Optimize your workout with faster supersets, dropsets and light-to-heavy exercises.
Tidier
The SlideLock being built in to the bar itself means you can keep your gym tidier with no more clips and collars lying around.
Modern and sleek design
Award winning design made to be intuitive, functional and solid. As an added bonus, the SlideLock is extremely satisfying and fun to use.